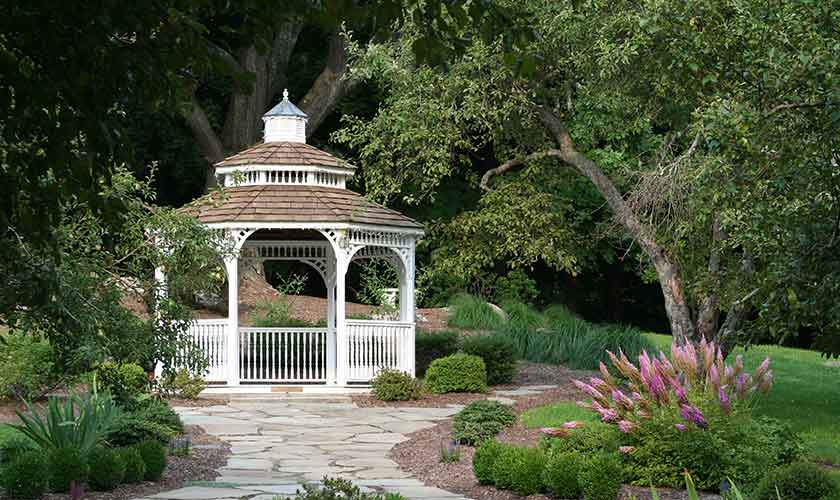 Most home insurance policies include a section for other structures. This policy reimburses you for the cost to replace or repair structures outside the home. If a tree falls on a garden shed, your other structures coverage covers the repairs.
It's a good idea to become familiar with the details of how this works — especially if your backyard hosts multiple outbuildings and structures.

What structures are covered?
To properly protect your entire property, you need to make sure that your other structures insurance covers your outdoor studio, pavilion or gazebo. Let's look at some of the structures included. Keep in mind that each policy is unique. Your insurance agent can walk you through the items that your policy will repair or replace.
Typically other structures coverage pays for damages to:
A fence
An in-ground swimming pool
A detached garage
A gazebo or pavilion
A shed, studio or other detached building
What exactly gets covered?
Other structures insurance covers any perils listed in your home insurance policy, unless otherwise noted. If your dwelling perils include fire, falling objects, vandalism and theft, your fence and garage most likely have the same coverage. Carefully review your policy to make sure.
How much will an insurer pay out?
Although other structures insurance covers the same events as your home insurance policy, there are a few key differences in how the coverage works.
Often, other structures insurance has a maximum that's tied to your dwelling coverage. For example, say your maximum coverage is $300,000. Of this, up to 10% applies to other structures, which means you have $30,000 to repair your shed or detached garage.
With this in mind, if you make major improvements, such as building a new fence and a gazebo, you may want to increase your total coverage.
What about the contents of your detached building?
So, you've calculated your coverage limits and feel good about the amount you'll have to replace other structures on your property. What about the stuff inside? Many people store tools, lawn equipment and other expensive items in these structures. How can you make sure your insurance will cover the entire loss?
Refer to the policy's personal property coverage to see if these items are covered. If not, ask your agent how to add them to your policy.