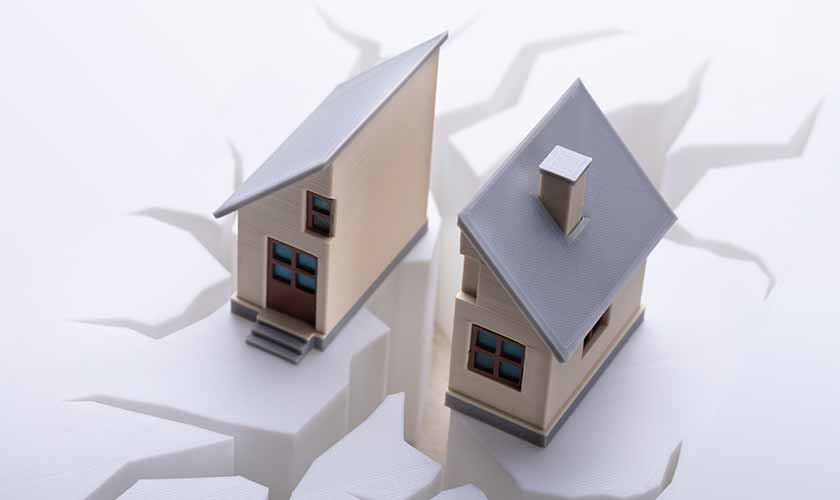 What does earthquake insurance cover?
An earthquake insurance policy pays for quake-related damage to the structure of a home, the policyholder's personal property within the home and additional living expenses from loss of use. Each of these policy components has stated coverage limits, and homeowners typically have to pay separate deductibles when filing building and personal property claims. Exactly what's covered by the three components is also specified in a policy, but they generally reimburse a homeowner for:
Structural damage. This can range from minor harm such as cracks in the foundation, walls or ceilings, to total loss damage that requires rebuilding.
Personal property. Ruined contents of a home are covered, although there may be relatively low limits for high-value items such as artwork, jewelry, collectibles, furs and electronics.
Loss of use. In addition to paying for meals, lodging, a temporary phone line and other living expenses while a damaged home is being repaired, an earthquake policy may pay for lost income on a rental property.
Earthquake insurance also usually covers additional expenses relating to home damage, such as:
Emergency repairs needed to safeguard against damage from aftershocks and tremors
Required building code upgrades
Necessary land repairs to stabilize and support the home
Safety and energy-efficiency upgrades made to the property
What's not covered by earthquake insurance?
Most earthquake policies include a list of items and types of damage that are specifically excluded from coverage. Although exclusions can vary depending on the insurance provider, they often include:
Fires that result from quake damage, such as from a ruptured gas line. Fire damage falls under a standard homeowners policy.
Damage to vehicles, pools, detached garages and exterior elements such as fences. These items may be covered by auto or homeowners insurance policies.
Flooding, tidal waves, tsunamis and sewer/drain backups. These events may result from an earthquake, but they're only covered by flood or sewer backup policies, or endorsements added to a homeowner policy.
When is earthquake insurance required?
Earthquake insurance isn't a legal requirement in the United States, and mortgage lenders usually only require it for homes in high-risk seismic activity areas. These usually include portions of California, Oregon, Washington, Alaska, Nevada and Hawaii, but may extend to areas of Oklahoma and Texas where fracking-related earth tremors are becoming more common.