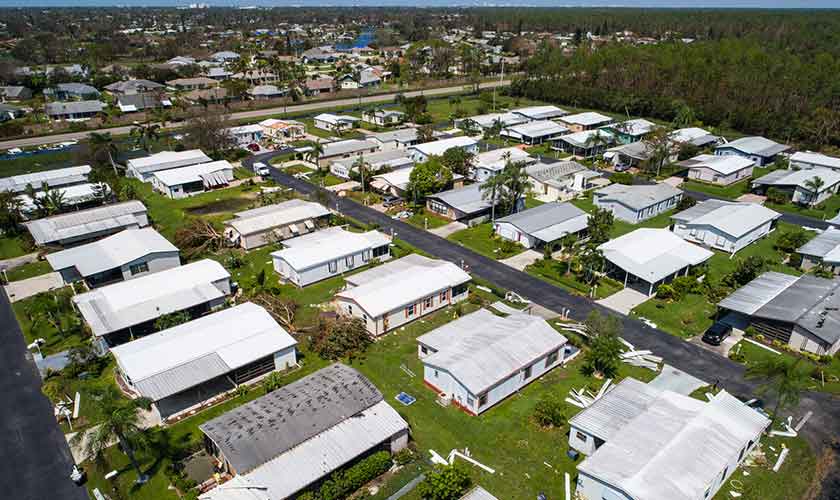 An HO-7 policy is similar to an HO-3 policy, known as the "special form" policy, but is unique to mobile and manufactured homes. Your policy will name the "perils" that it covers. The HO-7 provides coverage not just for your mobile home itself, but for any associated structures, which can include everything from a garage to a shed to fencing.
In addition, your HO-7 policy covers your belongings that you keep inside the mobile or manufactured home, such as your clothing and furniture. If you own any unique or valuable items, such as jewelry, musical instruments, or firearms, you can expect your homeowners policy to impose limits on reimbursement for any loss or damage to them. Ask about a rider to increase your coverage for these specific items.
Your coverage will list perils that it covers, as well as exclusions. If you suffer any loss or damage due to a covered peril, you can expect reimbursement. Typically an HO-7 policy pays out according to the replacement cost of your mobile or manufactured home (which is probably not the same as its market value). It is likely to pay the actual cash value of your belongings (which is generally lower than the cost of replacing them).
Damage and loss due to the following causes is typically covered:
Fire (including lightning)
Wind and hail
Vehicles or aircraft
Explosions
Smoke damage
Theft
Vandalism (if the property is occupied)
Electrical failure, frozen pipes, or plumbing failure
Weight of ice or snow
Damage or loss from the following causes is usually not covered in an HO-7 policy:
Wear and tear
Neglect
Pets
Earthquakes
Floods
Hurricanes
Intentional acts
Government acts
You may be able to buy separate coverage for floods, mold, and earthquakes, depending on where you live.
Your HO-7 policy covers more than just property damage, though. If someone is injured on your property, and you're considered liable, your homeowners coverage will step in. It should take care of medical and surgical costs, X-rays, ambulance fees, dental costs, nursing care, and even funeral expenses. In addition, your liability coverage takes care of any damage to the personal belongings of anyone on your property.
If your mobile or manufactured home becomes so damaged that you can't use it, your HO-7 policy also covers your temporary living expenses up to a certain limit. Having an HO-7 mobile home form homeowners policy in place can help you feel secure knowing that you have help on hand in the event of any loss.