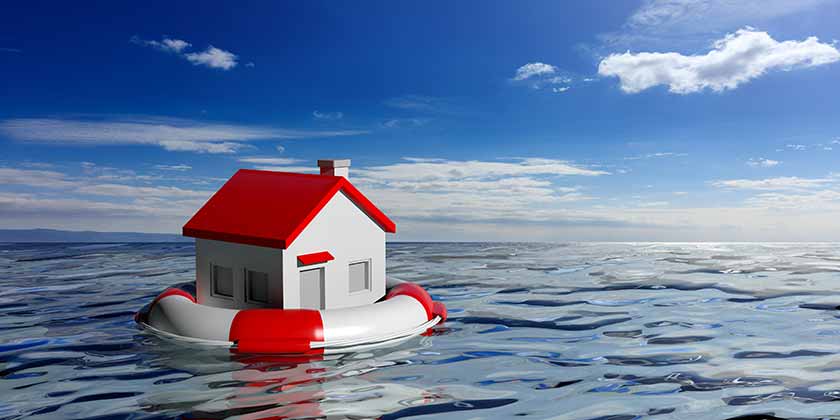 When to purchase a flood insurance policy
Purchasing flood insurance is advisable to homeowners whose property is located in an area at risk to flooding, which is usually denoted by participation in the NFIP. According to FEMA, all 50 states have experienced flooding, and roughly one-fifth of claims handled by the agency originate in moderate- and low-risk communities. If you have a mortgage on your home and it's situated where there is a known flooding risk, having this extra coverage may even be required by your lender.
Your timing for purchasing flood insurance can impact when your coverage begins. If you purchase a policy when buying a home and taking out a mortgage, your coverage may take effect immediately. If you buy a policy at a later date, you'll likely have a 30-day wait before your flood insurance coverage starts.
What's covered by flood insurance policies?
There are two main types of flood insurance policies that provide protection for a home, its contents, or both:
Policies that cover a home's structure
This type of policy protects a home's physical structure, including the foundation, electrical and plumbing systems, central HVAC system, features such as wood paneling, built-in cabinetry and bookcases, and a detached garage. A separate policy must be purchased to cover any other detached structures.
The maximum coverage limit for these policies is $250,000, and they provide replacement cost coverage for primary homes, which is the present-day cost to make needed repairs or replacements. Actual cash value is provided for second homes, which means the value is depreciated.
Policies that cover a home's contents
These policies cover the contents in a home, such as furniture, electronics, window treatments, clothing, freezers and the food stored inside, and some additional appliances and valuables such as artwork, up to the policy's specified limit. The maximum amount of coverage provided by this type of policy is $100,000, and claims are paid at the actual cash value of damaged items.
What isn't covered by a flood insurance policy?
Certain types of property, belongings, and damage aren't covered under flood insurance policies, including:
Mold/mildew and other moisture damage where it was avoidable
Outdoor property elements including fences, landscaping, pools, hot tubs, decks, patios, wells, and septic systems
Costs for temporary housing
Self-propelled vehicles
Stocks, currency, paper valuables, and precious metals