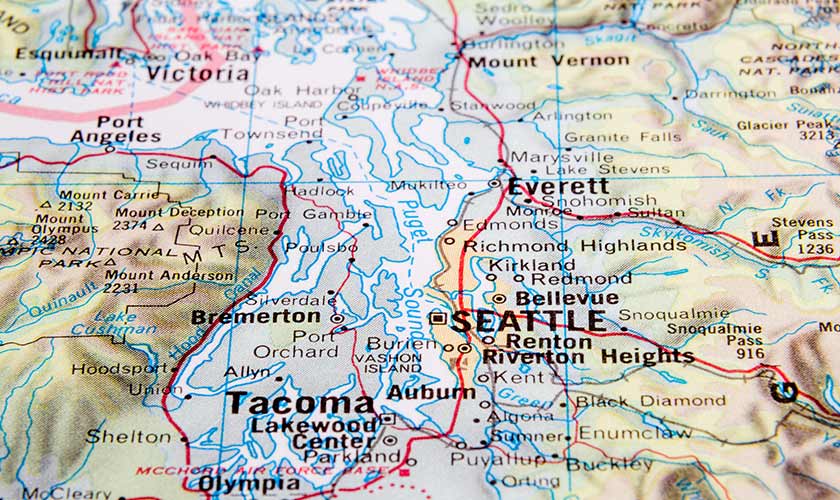 You can have your pick from multiple options for insurance coverage in Washington State. You may choose to carry:
Auto insurance – This is the typical option that most drivers choose. Your auto insurance policy protects you, and you can typically choose to pay for your insurance on an annual, biannual, or monthly basis. No large deposit is required upfront. When your policy starts or renews, the car insurance company will issue an identification card to show as proof of insurance. This card will include the name of the company, your policy number, the policy's effective date, the policy's expiration date, and a detailed description of your motor vehicle that includes its year, make, and model.
Certificate of deposit – For a certificate of deposit, you have to first submit a Financial Responsibility Application and Affidavit to the Washington State Department of Licensing. If you qualify, you'll then receive a request for further information in the form of financial statements and additional paperwork that you'll be required to submit within 30 days. The minimum deposit for the certificate of deposit will be at least $60,000. You'll then need to carry a document with the certificate of deposit number that's issued by the Washington State Department of Licensing and the name of the covered driver.
Liability bond – If you choose this option, it's necessary to establish a bond of at least $60,000. Additionally, the bond had to be filed by a surety bond company that's authorized to operate in the state of Washington. Once the bond has been filed, you need to get proof of the liability bond and carry it with you. The proof of your liability bond must include the name of the driver it covers, the bond number itself, and the name of the company that serves as the bond issuer.
Self-insurance – If you have 26 or more motor vehicles, you may be able to attain self-insurance. The Department of Licensing should be contacted directly for information on this type of insurance if you think you qualify.
If you try to drive a car in Washington without adequate insurance coverage, you could be fined $550 or more. Also, if you cause a car collision while you don't have car insurance, you may end up with a suspended license if you don't pay for the injuries and damages that result from the auto accident.
You should keep your proof of auto insurance coverage in your car and be ready to show it to a law enforcement officer if they ask for proof of insurance coverage. If you don't reveal proof of coverage, the office may give you a citation for a traffic violation. If you knowingly provide false information regarding your insurance to a police officer, that's considered a misdemeanor, so make sure all the information on your proof of coverage is accurate.
Washington Minimum Liability Coverage
Liability coverage is necessary. The minimum amounts required with liability insurance are as follows:
$25,000 bodily injury per person.
$50,000 for injuries or death per accident.
$10,000 total property damage per accident.
Those are only the minimum requirements that are set by the state of Washington. It's best to get more coverage than the state's minimum to better protect yourself and others on the road. Also, you want to be sure that your own car is protected, so its' best to add collision and comprehensive coverage to your policy, especially if you have a new or otherwise valuable vehicle.