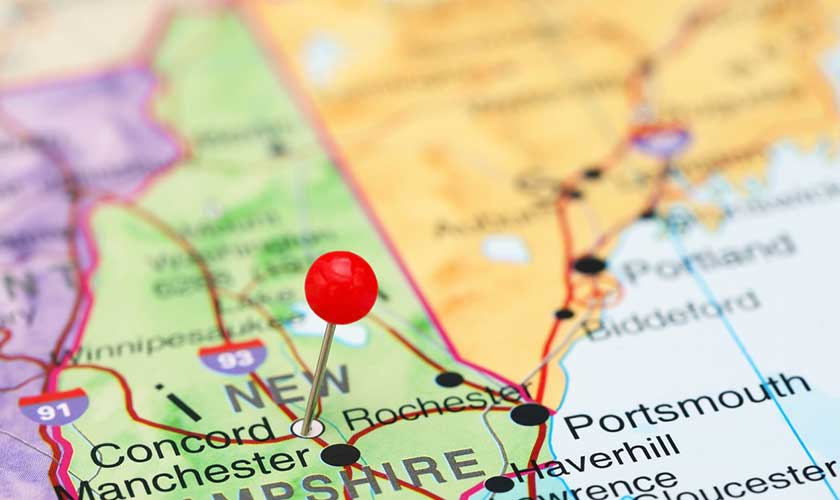 New Hampshire minimum auto insurance requirements
New Hampshire state does not have specific laws mandating its drivers to maintain minimum insurance cover, but if you choose to purchase insurance coverage, it must meet the following minimums:
• Bodily Injury Liability
Under bodily injury liability coverage, if you're found to be at fault in an accident resulting in injuries or death, the insurance company will pay at most $25,000 to each injured person in the third-party, and no more than $50,000 in total per accident. The bodily injury cover includes medical bills, lost income, pain and suffering, and legal costs up to the specified minimum limits on your policy. If the medical bills or repair expenses exceed the minimum requirements, you may be financially responsible for the excess costs.
• Property damage liability
You must also have a minimum of $25,000 in property damage liability in New Hampshire. This means if you or another driver on your policy is found to be at fault in a car crash, your insurance provider will pay for the replacement or repair of any damage to another person's property, which may include a car, fence, or home.
• Medical payments coverage per accident
While medical coverage is not a mandatory requirement by New Hampshire law, you may need at least $1,000 in medical payment coverage. With medical costs rising at a rapid rate, you may want to consider buying as much medical cover as you can reasonably afford.
• Uninsured/underinsured motorist coverage
Addtionally, you might consider purchasing uninsured or underinsured motorist coverage of at least $25,000. In the event of an accident, uninsured or underinsured car insurance protects you from medical, repair, and legal costs that may be associated with a crash caused by an underinsured or uninsured driver.
Penalties for driving without auto insurance in New Hampshire
Since the state of New Hampshire does not mandate its drivers to have auto insurance it has strict penalties in the form of suspensions when a registered driver is caught without proof of insurance in a car accident. If you are driving uninsured vehicle and get into an accident where you are considered to be at fault, then your driver's license and vehicle registration are likely to be suspended. Your driving privileges will also be suspended, which results in paying some fees and procedures to reinstate.
Mandatory filing SR-22
Once you have paid for all the damages, you have to file an SR-22 with the Division of Motor Vehicle for a minimum of three years since the first accident you caused or traffic violation. The SR-22 serves as a guarantee that you will maintain auto insurance for the three years.
If you do not comply with your auto insurance filing requirement, it may result to:
• Driver's license suspension and cancellation.
• Registration privileges suspended.
New Hampshire is a "fault" car accident state
The state of New Hampshire follows a Tort system of law in regards to car accidents. This means that someone must be found to be at fault for causing the crash. If you are found to be the cause of the accident, you are responsible for all the damages as a result of that collision.
New Hampshire auto insurance premiums
The cost you have to pay for auto insurance in New Hampshire is mainly determined by the behavior of the drivers in New Hampshire as a whole. It also depends on other significant factors such as your driving record, where you live, your age, and the type of car you drive.
For additional information contact
New Hampshire Insurance Department at https://www.nh.gov/insurance/consumers/auto.htm
New Hampshire divison of Motor Vehicles at https://www.nh.gov/safety/divisions/dmv/index-original.htm