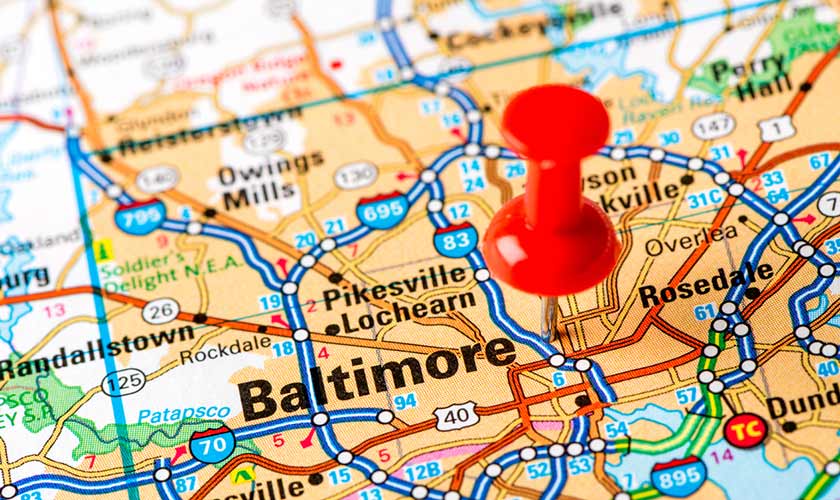 $30,000 bodily injury coverage liability per person per accident
$60,000 bodily injury liability coverage for all persons for every no-fault accident
$15,000 property damage liability coverage to cover for other people's property damages during a car accident
$2500 for personal injury protection
A minimum of between $30,000 and $ 60,000 to cover for uninsured motorists bodily injury
$15,000 liability coverage uninsured motorist property damage
Maryland does not require carrying of additional charges like comprehensive and collision.
Additionally, the state allows drivers to waive for personal injury protection and choose a limited PIP option. Despite these being the minimum law requirement,car insurance advisors recommend if you own valuable assets and property, it is vital to supplement the minimum requirement to increase your protection against monetary losses
Penalties for not carrying Maryland auto insurance
The law requires car owners to maintain adequate coverage, keep proof of your insurance in the vehicle always and produce it upon request and keep all registration tags updated. Driving without car insurance can lead to severe consequences including fines, cancellation of your driving license, and revocation of your registration or your license plate confiscation.
The law also requires all insurers to inform their customers in case of cancellation or lapsing of their insurance. Upon lapse or cancellation, you will receive a notification from MVA to rectify the problem immediately.
Maryland driving laws
Staying current on the driving regulations and legal requirements in Maryland is vital as it might affect your car insurance liabilities. The state has enacted the following laws that might change your insurance coverage:
The state law has banned all texting while driving for all drivers and a ban on all cellphone both hand free and handheld for first-time drivers. It is an offense for any driver to use cell phones while driving since 2013. The penalty for violation of this law is $75 fine for the first time $125 for the second time and $ 175 for the subsequent offenses.
Seat belt law enacted in October 2013 and everybody should wear a seat belt in a car. This law further dictated that vehicles should not carry more people than the seat belts it has. Neglecting of this law is subject to $50 fine per unbelted passengers. Additionally, child safety seats are compulsory for children under eight years, unless the child is 4'9'' inches or taller.
Maryland DUI laws
Maryland laws prohibit driving when under the influence of alcohol or when your blood alcohol content is 0.08 or above. For all the drivers below 21 years, Maryland has zero tolerance for alcohol. If an under 21-year driver is found driving under the influence of alcohol, their driving licenses can be revoked or suspended. Commercial drivers also have a Blood alcohol content (BAC) limit of 0.04.
Penalties for driving under the influence
For the first time offense in the state of Maryland, you will face the following maximum penalty charges:
Up to 1-year jail term and a fine of up to $1000
Up to 2 years jail time a fine of $ 2000 if you were transporting a minor during the time of arrest
Suspension of your driving license for a minimum of 45 days
Your first DWI conviction will cost you up to 2 months in jail, $500 fine and 60 days license suspension.
Maryland SR-22 auto insurance
SR-22 is a document required by the Maryland Department of motor vehicles to prove that you are carrying minimum liability coverage for the state. This document is filed by drivers who have previously involved in DUI offense convictions, caught driving without proof of car insurance or had an offense of uninsured auto accident.