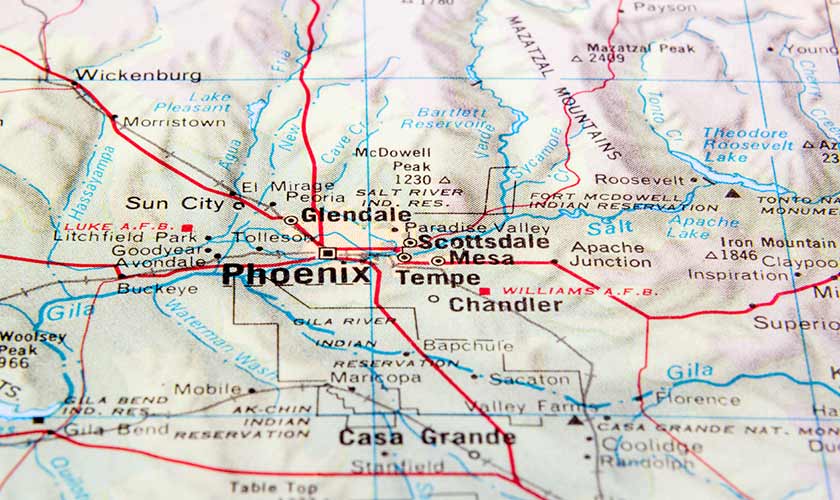 Motorists must provide mandatory vehicle registration financial responsibility when requested by a law enforcing officer, when involved in an accident or when renewing their car registration. Failure to carry the mandatory Arizona car insurance policy may result in severe consequences, including a fine of up to $500 for first-time offenders and suspension of the driver's license for up to three months.
Serial offenders may have to surrender their plates, license and vehicle registration. The driver's car may also be impounded, and they may be forced to pay the hefty storage fees when their vehicle is involved in an accident, if they are uninsured.
Arizona minimum liability coverage
Liability coverage is a mandatory requirement of Arizona. The minimum liability amounts under Arizona law are as follows:
$15,000 bodily injury for every passenger
$30,000 bodily injury for all individuals involved in an accident
$10,000 in property damage liability
Motorists need to keep in mind that these are the minimum state requirements. The State of Arizona doesn't require drivers to carry any additional coverage. However, they may run into trouble if they depend on these minimum coverages and are involved in a car crash.
Things might even get worse if they have assets that they are trying to protect. Therefore, it is always recommended that motorists get collision and comprehensive coverages as well to supplement these minimum requirements.
Uninsured/underinsured motorist coverage
The primary purpose of the uninsured/underinsured coverage is to protect the driver against financial losses in case they are involved in an accident, and the other driver carries no liability coverage or has insufficient coverage. Although it is always a good idea to take this coverage, it isn't mandatory under the Arizona auto insurance laws.
No-fault insurance
Being a tort state, every motorist is financially responsible for any property damage or bodily injury that they cause to other people in the event of an accident. Arizona auto insurance companies offer the no-fault insurance coverages, but it isn't mandatory under the state car insurance laws. Therefore, drivers can decide to add it to their policy or leave it out.
Personal injury policy
This is an extension of auto insurance that protects the driver in the event of a car accident. This policy is available and mandatory in some states, but it isn't compulsory in Arizona. The personal injury policy covers medical expenses, lost wages and other damages if the motorist is involved in an accident.
Arizona SR-22 requirements
SR-22 is simply a certificate of financial responsibility that drivers will need in case they are convicted of reckless driving, DUI or if the state restricts or revokes their driver's license. In Arizona, if the driver is also the owner the car, they will be expected to file an SR-22, but if their license is revoked and they don't own a vehicle, they will be expected to file a non-owner SR-22.
Depending on the reason for their license revocation, they will be required to have the SR-22 certificate for a number of years. For instance, if they committed a DUI offence, they will need the SR-22 for a minimum of five years.
Arizona DUI laws
Just like the other states, Arizona is a no-tolerance state for DUI/DWI. Motorists can be arrested and arraigned in court if their blood-alcohol content is above 0.08 percent. For a standard DUI, which is for first-time offenders, the fine is up to $1,500 plus a jail term of ten days and a 90-day or one-year license suspension. An interlock device will be installed on their car for up to one year.
For second time offenders, the jail term rises to 90 days, and the fine goes to $3,500. Culpable drivers will also receive a one-year license revocation and 30 hours of community service. Their driver's license will be revoked for one year.
For extreme DUI (BAC of 0.15% or more) they will receive a hefty fine of $3,740, 120 days home detention, one-year license revocation and 30 hours of community service. An interlock device shall be installed on their vehicle for one year.