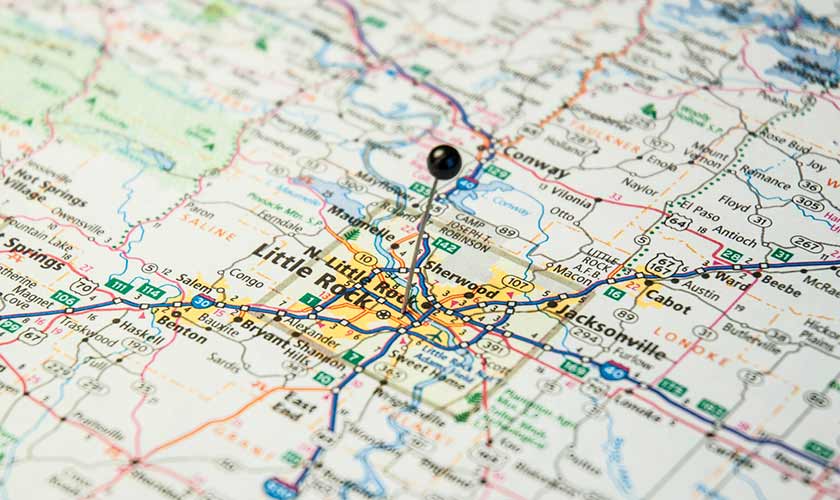 Mandatory insurance coverage
The law stipulates that drivers' liability insurance should have the following minimum limits:
Body injury coverage- This involves $25, 000 per an individual and $50,000 per an accident for every injured party in a particular crash.
Property damage coverage- In this circumstance, you pay $25,000 for damage to another individual's vehicle or any other property as a result of your car's accident.
Optional insurance coverage
Arkansas drivers can protect themselves further with several coverage options. These options include:
Uninsured/underinsured motorist- The coverage is not legally necessary, but the laws in Arkansas states that insurance firms must provide it to their drivers at the limits that are compatible with policy liability limits and the drivers are supposed to reject it in writing. This policy pays for damages that are caused by an uninsured driver or a driver whose insurance is not capable of covering the done damage.
Collision- This policy caters for your car if you are involved in a hit and run accident; in other words, an accident where the culpable driver cannot be held accountable.
Comprehensive- This for the damages and losses that occur due to non-collision events. It includes events such as vandalism, theft, fire, and weather damage. The coverage is deductible, and also it contains glass-only damage.
Personal injury protection- The coverage is not mandatory, and you have to reject it in writing. It includes lost wages, medical payments, and death benefits, no matter who was guilty of an accident.
Proof of insurance and the law
It must be noted that Arkansas drivers are supposed to carry and present the evidence of the coverage to law enforcers upon request. If you got insurance, but you're unable to prove it, you will be fined $25. If you don't have one and you caught driving, you will be subjected to stiffer penalties:
$50 to $250- This is when you commit a first offense.
$250 to $500- This is the fine for the second offense
$500 to $1000- This is for the subsequent crimes
Suspension of the driving licenses and car registration number
Jail terms for multiple offenses.
Arkansas State uses an electronic verification system; the system is used by insurance companies to file insurance information to the state. The police can access this data, but it's mandatory to carry proof of the insurance.
Shopping for car insurance in Arkansas
Arkansas Insurance Department provides drivers with assistance when buying car insurance; this includes detailed information regarding insurance companies' complaints and tips for purchasing the right insurance policy. The department also has a comparison tool which enables insurance buyers to compare various insurance companies' rates and pick the right price.
High-risk drivers
High-risk drivers mean those drivers with poor driving records such as multiple tickets or significant violations. Therefore, they face the highest insurance charges or rates. In Arkansas, such kind of drivers applies for the risk insurance program. This program is costly; it's advisable to keep your driving record clean.
Teen drivers in Arkansas
The state has a graduated licensing program for teen drivers; each level has got specific requirements.
This is for 14 years old, and to qualify you must:
Be in school
Have parent's permission
Pass a written test
With the license, you drive under the supervision of an approved driver of 21 years and above.
At 14 years you can drive unsupervised if you prove the required hardship. The permit allows one to operate under the following restrictions:
Not to drive between 11 pm to 4 am unless you supervised by a driver of 21 years and above
Not to use a cell phone while driving.
Not to allow passenger of fewer than 21 years in the passenger's seat.
For you can apply for this license, you must be 16 years, hold learner's permit for at least six months and pass your road test. Unsupervised driving is permitted after six months with the following parameters:
Not to drive between 11 pm to 4 am not unless you accompanied with a driver who's 21 years and above.
Not to the driver with more than one passenger who is not a family member.
Not to use a cell phone while driving.
Once you attain 18 years, you can graduate and have a full unrestricted license.