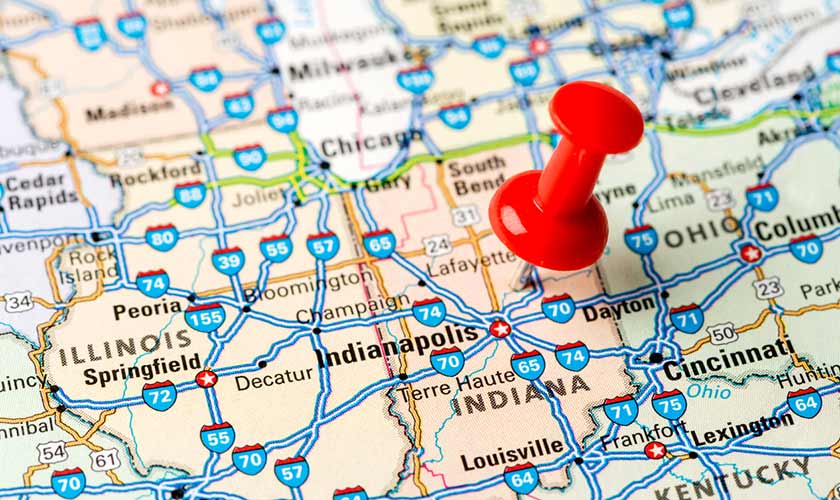 To demonstrate that you can pay in case of an accident, you need to possess a bond or certificate of insurance, deposit $40,000 with the state, or have Indiana's minimum liability insurance on your cars.
The government agencies that you need to demonstrate your proof of insurance are the Indiana State Department of Insurance and the Indiana State Department of Revenue. You might also have to get in contact with the Motor Vehicle Division.
Indiana auto insurance laws also require that any eligible driver in a household be covered by a liability auto insurance policy. Moreover, any rental vehicle within the state must have liability auto insurance. As such, car rental agencies are required to provide the state minimum liability whenever they rent out a vehicle. Nonetheless, your personal auto insurance policy should cover rental cars; however, if it doesn't, consider checking with the credit card you used. Some credit card companies offer insurance coverage for rental cars.
Proof of insurance
You should be able to provide proof of insurance whenever requested by authorities. The proof typically includes the name of your insurer, dates of coverage, and the amount of coverage. It should also contain the VIN number of the covered cars, policy number, make and model of the cars, and the policy holder's name.
Your auto insurance must be authorized by a legitimate and qualified car insurance company. As mentioned earlier, this proof comes in various forms such as:
A legal document from the state showing that you have a certificate of self-insurance,
A cash deposit made to the state, or
An insurance identification card from the auto insurance company.
What happens if you do not have insurance?
If you get into an accident or are stopped for a traffic violation and cannot provide proof, you will be declared an insured driver. In fact, you can still be cited for lack of proof of insurance even if the accident was not your fault.
Lack of proof results in the suspension of your driver's license, fines, and even losing your registration. Also, penalties tend to increase with each repeated offense.
The first offense typically charges you a fine of $150 in addition to losing your driver's license for up to 90 days. The second offense usually charges you $225. If the second happens within three years of the first offense, your license may get revoked for up to a year. Any subsequent offense gets a fine of $300.
To get your license reinstated following the suspension, you will need to display proof of current insurance coverage.
Minimum liability car insurance in indiana
So as to comply with Indiana's car financial responsibility laws, motorists are expected to have the following coverage (at the very minimum) as part of their car insurance policy:
Bodily Injury Liability is $25000 per individuals for an accident occurred and 50,000 us dollars for all individuals per accident
For Bodily Injury motorist who is Uninsured, the cost is $25,000 per individual and $50,000 for all people involved in the accident.
Property Damage Liability: $10,000 per accident.
$10,000 per accident Uninsured Motorist Property Damage:
This basic coverage usually pays for property damage bills, medical bills, and other costs surrounding the people involved in the accident up to the coverage's limit. However, it is wise to have coverage that goes beyond the bare minimum since it will provide adequate protection in case of a serious accident those results in significant injuries and vehicle damage.
Remember, once the limit of your auto insurance coverage has been exhausted, you will start to pay out-of-pocket for the remaining bills. The benefit of more comprehensive coverage, therefore, is that it protects your financial assets during such an unfortunate occurrence.