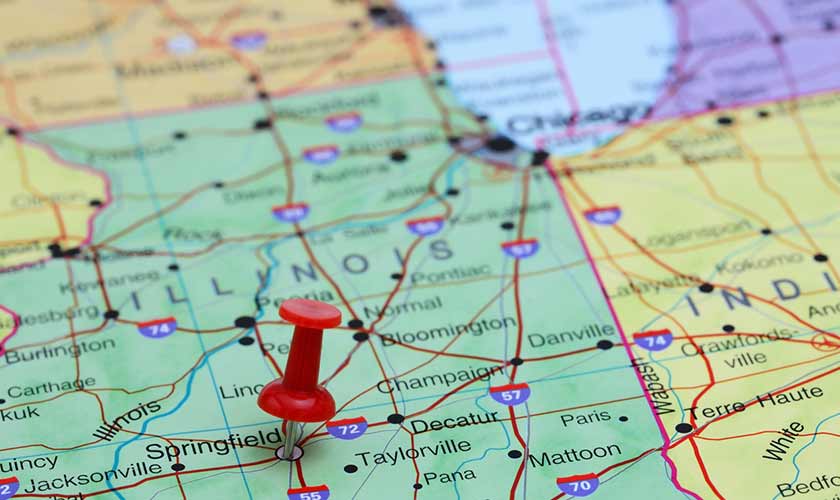 Illinois car insurance requirements
The state requires drivers to have property insurance as well as liability insurance. Property insurance is a coverage option that helps cover the cost of damage to another driver's property. The property may be the car, mailbox, pets, or whatever s damaged during an accident.
Bodily injury insurance is a necessity for Illinois drivers. It makes it possible to pay for the medical charges of another person in case of an accident. It may also cover funeral costs in the event of a fatal accident. Bodily injury insurance also covers passengers in a driver's car during the accident. It may be used to cover compensation for lost wages and pain and suffering.
All drivers are required to carry the minimum amount for both of these insurance covers. The minimums are as follows
$20,000- property insurance per accident
$25,000- liability insurance (Covers death or injury of a person)
$50,000- liability insurance (covers injury or death of more than one individual per accident)
Proof of insurance
While having the right types and amount of insurance is eth most important thing for Illinois drivers, it is not enough. They are required by the law to carry proof of insurance at all times. Drivers must be able to provide this proof whenever an officer asks for it. While physical forms of proof are the most popular, they are not the only ones. It is now possible to hold a digital copy as most insurance companies have mobile apps.
When do the laws apply?
Illinois car insurance laws apply to anyone whose vehicle is registered in the state. Divers who have moved from other states to Illinois may have their cars registered elsewhere. The law requires them to register their cars in Illinois and abide by the state's regulations in 30 days.
Consequences of defying Illinois car insurance laws
Drivers that do not have car insurance or cannot provide proof of insurance in Illinois first receive a ticket. If they plead guilty or they are convicted, they may have to pay a fine of at least $500. Their license plates are suspended and only reinstated when they get the right type and amount of insurance. The fee for reinstatement is $100.
Those drivers who continue to drive even when their plates are suspended may end up paying a minimum of $1, 000 fine along with a four-month suspension. If they are found guilty of a Class A misdemeanor, they may go to jail for up to 1 year.
Drivers who cause accidents while driving without insurance are also guilty of a Class A misdemeanor.
Car insurance premiums
The state of Illinois allows insurance providers to base their premium requirements on a driver's credit rating. Car insurance premiums are regulated by the Illinois Department of Insurance. Insurance companies may charge premiums based on; a driver's location, their age, gender, driving experience and record, the type of car, marital status, prior insurance covers, and whether the car is for personal or business use.
SR-22 insurance
The state requires 'problem drivers' to have this form of insurance. It may be required of a driver under the following circumstances;
If the driver has a history of driving without insurance
If the driver has been caught driving with expired license plates
If a driver is found driving while intoxicated
If a driver is caught driving with a suspended or expired license
The SR-22 may only be issued by authorized providers. If a driver's current insurance is not authorized for it, they may need to find a different one. If a driver has SR-22 insurance, they need to provide proof of financial responsibility when moving from Illinois. They must complete an affidavit to waive it.