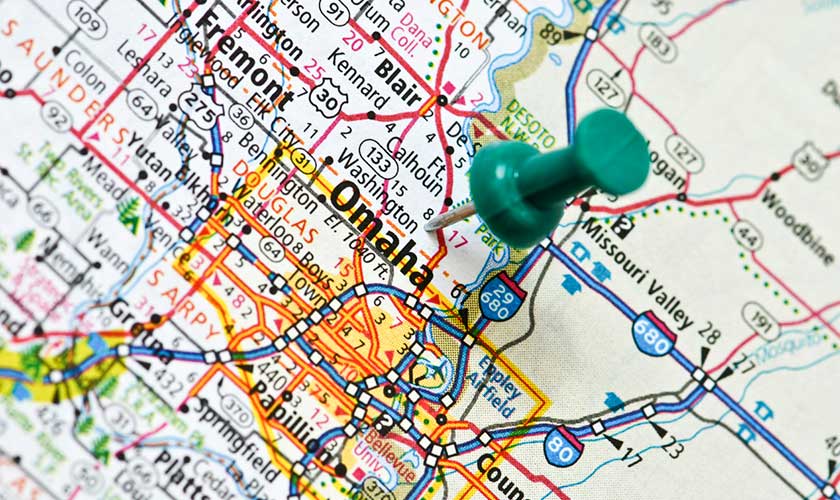 Those two will ensure that the car insurance company pays on behalf of the motorist for other people's damages whenever they are involved in a crash within the state, up to specific limits. Failure to carry proof of minimum auto insurance in the State of Nebraska will result in hefty fines and possible suspension of a driver's license.
Nebraska minimum liability coverage
Each state in the US has its own minimum amounts when it comes to liability coverage. In Nebraska, the minimum liability amounts are as follows:
Bodily injury for a single person is $25,000.
Bodily harm for all injuries is $50,000.
Property damage is $25,000.
Keep in mind that these are the minimum requirements set by Nebraska. Auto insurance experts always advise that motorists get more than the state-mandated auto insurance minimums especially if they have any assets that they wish to protect.
These minimum requirements don't keep pace with the ever-rising costs of car repair and medical care. Drivers should remember the fact that carrying liability coverage won't cover them in case of damage to their own vehicle; therefore, they should consider adding collision and comprehensive auto insurance coverages to their policy.
Uninsured/underinsured driver coverage
Some states in the United States require motorists to carry the Uninsured/Underinsured motorist coverage. The primary purpose of this coverage is to protect the driver in case they are involved in a crash where the other driver isn't adequately covered by their auto insurance policy. Nebraska requires every motorist to carry minimum Uninsured/Underinsured policy coverage of $25,000 per person and $50,000 per accident.
No-fault insurance
Just like the Uninsured/Underinsured motor coverage, some states require motorists to carry the no-fault coverage. However, Nebraska doesn't require that.
This is a tort state meaning that the driver who is at fault must pay the victim's hospital expenses and repair any damage to their car. Further, the victim is also free to pursue reasonable compensation for any additional losses, pain and suffering.
Personal injury protection (PIP)
Personal injury protection is an extension of the auto insurance policy that is available in some states. The primary purpose of PIP is to cover medical expenses and in some rare cases lost wages in the event of a car accident. Nebraska currently doesn't require motorists to carry the personal injury protection policy.
SR-22 maintenance in Nebraska
If a driver has been convicted for violating the Nebraska auto insurance laws, he/she will be expected to maintain SR-22 for at least three years. The state will automatically be alerted if they have lapsed their insurance premium and failed to maintain the minimum liability coverage as expected.
The punishment for such an offence is the immediate suspension of their driving license and registration. The State of Nebraska has put in place an electronic verification database for monitoring motorists' insurance status in real time.
All auto insurance companies are required to update the DMV with the status of every single auto insurance policy provided by the company twice per month so that the details can be matched against each registered vehicle. If the driver's car insurance policy includes the SR-22 filings, it will be noted and updated in the system.
Nebraska DUI laws
According to Nebraska DUI laws, it is illegal for any individual to drive while under the influence of drugs, alcohol or any other intoxicant with a blood-alcohol concentration level of 0.8% or more.
Motorists should keep in mind that they can easily be arrested for driving under the influence of drugs and alcohol even if their blood-alcohol concentration is below the stipulated limit of 0.08%. Under the Nebraska DUI laws, first-time offenders are liable for fines up to $500 and a jail term of up to 60 days. The minimum jail term for first-time offenders is seven days.
A first-time refusal will lead to license revocation of 90 days although the driver may apply for a restricted license after 60 days. But an ignition interlock will be required to drive during the suspension period.
For second and subsequent offenders, the jail term can be up to 20 years and hefty fines of up to $10,000. There is also a potential 15-year driving license revocation and successful completion of DUI program.